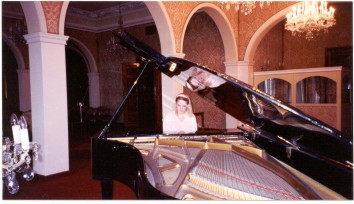 Playing in Prague
Lisa Herger was born in 1968 in Maine, USA. She moved to Vienna, Austria in her teens. While still studying Piano Performance at the Juilliard School and the Vienna University of Music and Performing Arts, she already began concertizing with singers and instrumentalists as well as working on local opera productions as a vocal coach. She is a pianist who focuses on performing with singers in Lied recitals and Aria/Operetta concerts as well as with instrumentalists. Since 1996 she has been an accompanist and teacher on the faculty of the University of Music and Performing Arts in Vienna. She has performed in Europe: Austria, Germany, Italy, France, England, Slovakia, and Holland, the USA: Maine, Connecticut, New York, Michigan, Texas and California and in Indonesia. She performed in the Vienna Long Nights Festivals: the Lange Nacht der Museen (Weber Grand Duo for Clarinet and Piano in 2009) and the Lange Nacht der Musik (Gala American Night at the Vienna Volksoper in the Volksoper Orchestra in 2001) as well as at the Graz Classics in the City festival with Brigitte Berger-Möhl, Soprano in 2002. She has made appearances as a soloist with orchestras in Italy, Germany and the USA.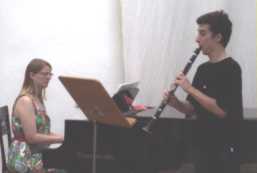 Rehearsing at the International
Music Academy in Feldkirchen
Lisa Herger has extensive experience as a vocal coach. Recently, she was the repetiteur for the Vienna Taschenoper production of Due Intermezzi: Commediae per Musica in the Summer 2012. She has worked on productions with: the Vienna Volksoper in 2001 and 2002, the Vienna Klangbogen Festival, the Opera Festival at St. Margarethen, the Neue Oper Wien, the Mozart in Schönbrunn Festival, the Baden Festival and she was a full-time vocal coach at the Vienna Kammeroper from 1995-1997. Among the many conductors with whom she has worked on productions are: Lord Yehudi Menuhin (Klangbogen Festival), Johannes Wildner and Christian Arming. She was the vocal coach for Save the Music's CD-release with Centaur Records of Scarmolin's The Caliph, featuring Austrian and American singers and the Slovakian Radio Orchestra. Among the great singers whose teaching she has accompanied regularly are Walter Berry and Heinz Zednik.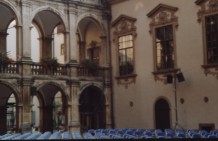 The "Landhaushof" in Graz,
where the "Classics in the City"
concert took place
In addition to her work as an accompanist on the faculty of the University of Music in Vienna (at the Institute for Voice and Opera and at the Bruckner Institute for Ensemble and Accompanying), Lisa Herger has taught at various Summer Music Schools such as the International Music Academy in Feldkirchen in Carinthia in 2001 and 2002, where she led an international class in accompanying in addition to performing there.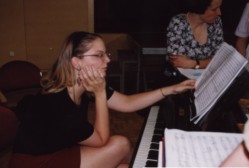 Rehearsing in Burgenland
Lisa Herger earned her Master's (Magistra der Künste) and Bachelor's degrees in Piano Performance (Konzertfach) from the University of Music and Performing Arts in Vienna where she studied with Prof. Rudolf Kehrer and Prof. Noel Flores. From 1987-1988 she studied piano performance at the Juilliard School in NYC with Seymour Lipkin. She was chosen to be an Alban Berg Foundation Scholar in Vienna from 1992-1993. In 1992 she was awarded the Vienna Friends of Music Society Scholarship. In the Summers of 1992 and 1993 she studied with Philippe Entremont and Gabrielle Casadesus on a full-scholarship at the Conservatoire de Musique in Fontainebleau.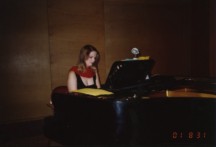 Performing in Burgenland
Lisa Herger resides in Vienna's 14th district with her husband and 2 children. She is perfectly fluent in English and German and adequately fluent in French.